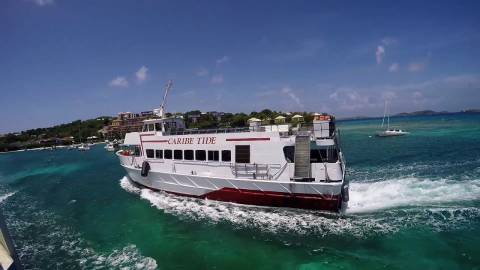 Getting to St. John:
Airline Service: St. Thomas Cyril E. King Airport [Airport Code: (STT)] has daily non-stop service from the mainland on American Airlines, Delta and United. Other Carriers that fly to STT include Spirit, US Airlines, Seaborne and Jet Blue.
Ferries: Currently ferries leave Red Hook in St. Thomas for Cruz Bay in St. John every hour on the hour from 7:00 AM until 10:00PM, 7 days a week.  There are also 6:30 and 7:30 AM departures.   Ferries also travel back and forth between Cruz Bay St. John and downtown Charlotte Amalie in St. Thomas. Departure times tend to change so please contact Varlack Ventures at (340) 776-6412 or Transportation Services at (340) 776-6282 for current departure times.
Barges: There are two car ferry (barge) companies that operate from St. Thomas to St. John—Love City Car Ferries and Global Marine—the tickets are NOT interchangeable.  Please check with the specific barge company for their current schedule prior to traveling. Also, when in doubt purchase one way tickets.
Roads: Our roads are hilly and narrow. Keep left; front seat passengers must wear seatbelts and please obey all posted signs for speed limits and parking permissions.
Parking:  Parking in Cruz Bay can be difficult to find. Please do not park in any area where no parking signs are posted to avoid fines or booting of your vehicle. Many car rental agencies offer free parking on a first come basis. For creative parking suggestions, please Contact Us.
Vehicles: The US Virgin Islands are the only place in the USA where you drive on the left side of the road. Even though the islands are part of the USA, driving on the left dates back to when we were under European rule.
Please also check out our Arrival Guide for more details about planning a smooth arrival to St. John.